On this evening we have the honor of having a conversation with the one and only Legendary Professional Bodybuilder Bill Grant.
Bill is a Mr. America and Mr. World, President and owner of Bill Grant Nutrition and the Next Generation of Sports and Performance Nutrition.
He has over 40 years of professional experience in bodybuilding, health and fitness. His multi-faceted and enthusiastic approach and concepts for building a total fitness package that appeals to every athlete, from novice to professional. His lifetime commitment is dedicated to maintaining a healthy lifestyle in today's world.
World Renowned Fitness Expert
U.S. and International Champion Bodybuilder
Mr. America (1972)
Mr. World (1974)
Professional Personal Fitness Trainer covering all aspects of fitness
Nutrition Consultant
Television & Radio Host
Personal Appearances
Master of Ceremonies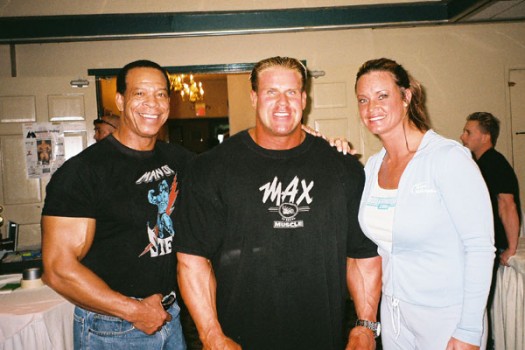 Bill's many credits include producing and hosting his own successful Comcast Cable television fitness program and radio show on WEVD 1050-AM "Fit for Life" with a combined monthly audience of over 1.5 million people. Each show focused on all aspects of fitness, sports medicine, and diet while incorporating expert guest speakers in the areas of total fitness and nutrition.
He has appeared in numerous movies (ABC's Friday Night Movie of the Week, Hustler of Muscle Beach and the new release of Pumping Iron starring Arnold Schwarzenegger), theatrical productions, television shows (Runaway Train and Smokey Robinson Review) and commercials (Toyota, McDonald's, Bally's/Jack Lalane). He has appeared on ABC, CBS, CNN, WOR, ESPN, Fox News, "The Big Story" with Rita Cosby and is also featured in a new ebook called "Fit Over 40" . His articles and interviews in health and fitness magazines worldwide easily identify him as the perfect spokesperson for a vigorous exercise program, proper nutrition and a healthy attitude.
Bill received a lifetime achievement award from Bodybuilding.com for his dedication and never ending contributions to the sport of Bodybuilding and the Muscle Beach Hall of Fame award presented by Iron Man Magazine.
Bill is active in numerous community and charitable organizations including the Metropolitan YMCAs of the Oranges Kids Care Club, Newark YMCA Sports Legends, the Parkinson's Unity Walk, and the Alan T. Brown Foundation.
This is one interview that you definitely do not want to miss!
See you there!
Time: Sunday July 20, 2014 @ 5:00 p.m. Eastern Standard Time, 2:00 p.m. Pacific Standard Time
Place: The LanceScurv Show <—–Click here at showtime to hear the entire program live on your computer or smartphone!
Call In Number: 760-259-2310 – Call in to listen or join in with your opinions on the discussion. You DO NOT need a computer to participate in the show, all you need is your phone.
Anonymously Call The LanceScurv Hotline to share your stories and opinions on the show topic at 407.731.2945 – 24 hours a day, seven days a week!
If you have any issues getting to the show, feel free to call me on my personal cell ( 407-590-0755 ) and I will get you squared away with any problems that you might have!
Also, the entire program will be uploaded to my YouTube channel (YouTube.com/LanceScurv) the very next day for your listening convenience just in case you've missed it.