This is a celebration of love and divine service to the homeless in Orlando Florida as we celebrate the one year anniversary of the Practice What You Preach ministries with Brother Rafael Mack, Carl Latimer & Chris Jones.
Experience here with us on the frontlines of the underbelly of Orlando Florida as a great need is fulfilled while serving God in the most basic and sincerest of ways by feeding someone who may be down and out in their life.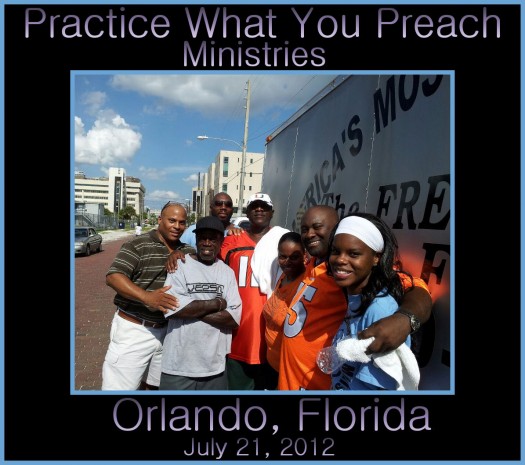 Former drug dealers who turned their lives around for the greater works of their Lord and Savior Jesus Christ – Tangelo Park natives Rafael Mack, Carl Latimer & Chris Jones are textbook examples that all is not lost when one is seemingly sold out to a life of waywardness and street activity.
So using their example is why we should continue to pray, fast and be there for those that the world has literally given up on. Enjoy this special day as we are sure that there will be many more celebrations of giving such as this as the years go by. God bless you and please make a point to share this video with all of your friends!