As we move forward as a society there are many social phenomenons that are rising to the surface that just weren't previously noticed before.
The question is whether these particular social arrangements were always in existence in small amounts or whether it has become something of an undercover movement because of the many unique variables that are available today that were not readily there as much in the past.
In the bigger cities there are more people living within closer proximity to each other in less and less space, this forced social interaction has to play a bigger role than it ever has before and must have an effect on a person to possibly bring out thoughts, reactions, feelings and desires that were once a lot easier to completely quell.
You have many who feel as though the many lifestyles manifest in the present day are not in keeping with the way things were meant to be just as well as you have many others who believe that the traditional unions have failed the masses and that it is their right to acquire the love and satisfaction that they need where ever they can find it.
This is what we will be discussing tonight as we place the scope of our discussion more so into the case of the women who have other women as lovers and would be considered on the down low.
What? Yes. While many in our society have focused their finger pointing energies on the more visible and highly publicized "Brothers on the Down Low", the women who have chosen to love other women while publicly in the traditional relationship unions or marriages have literally gone undetected and almost invisible on the radar.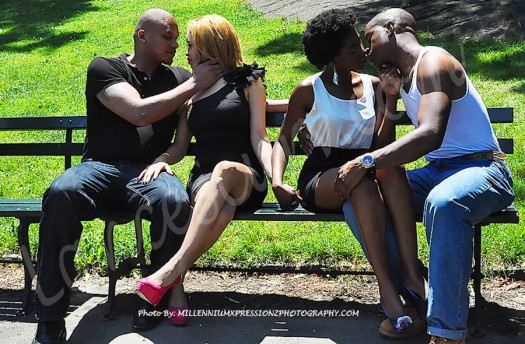 While everyone has the right to choose what type of lifestyle that they feel is best for them, the area of concern that I hope to highlight in this program is the issue of deceit. As with the Down Low Brothers, it wouldn't be something that would be is as explosive as it is when the unsuspecting spouse finds out if their preferences were stated up front upon getting together with them and their movements weren't cloaked in deception.
But here is the irony of the situation and really why I am asking the men how THEY feel about it on our show – While it is accepted that the MAJORITY of most women would be utterly devastated once they found out that their significant other was involved intimately with a man, it seems as though many of the men that I have spoken to in passing about the flip side of this issue really had no problem with it as long as they could participate in the festivities!
Now many of them refused to comment on an audio response that I could play over for your listening pleasure, but it truly was a shock that most of them did not have the same initial reaction that the women who discovered that their man was on the down low!
This reaction in itself shows me that many men view the act of intimacy a lot different than men do and probably view it in a more sacred manner.
While we might touch on what the reasons may be for those women who have secret women lovers and why they choose to remain in the shadows about it, I really want to grasp why men have such a completely different outlook on it and I urge most who feel this way or not to call in and speak your mind because this is a topic that we need to understand because it will help us in our own understanding which in turn will make us better people.
This show is an adult program but insults and buffoonery will not be tolerated. Understanding is what we seek!
Time: Tuesday, July 6, 2012 @ 10 p.m. Eastern Standard Time
Place: The LanceScurv Show    Click here to attend this program at showtime.
Call In Number: 760-259-2310 – Call in to listen or join in with your opinions on the discussion. You DO NOT need a computer to participate in the show, all you need is your phone.
Click the BlogTalkRadio widget or YouTube Screen below in order to hear this episode in its entirety!