The Vidant Medical Center in Greenville North Carolina appears to be such a beautiful high tech example of what most hospitals could only aspire to be.
At least this is the impression that the caring loving Mother of her 26 year old daughter felt when she was taken in to care for her as she struggled with several multiple illnesses – Systemic Lupus, Rheumatoid Arthritis, Vasculitus, Antiphospholipid Syndrome and Acute Renal Failure any of which could have taken her at a moments notice.
So this Medical Center appeared to be the absolute best place to receive the 'round the clock care that only such an impressive state of the art facility could bring.
But all of the technology in the world cannot distance one from human error and negligence, the advancements in medical gadgetry is only as strong as its weakest link.
…….and that link is the brilliantly flawed well dated machinery called humankind.
For all of the latest machinery to detect and thwart all sicknesses proactively can never measure the amount of laziness, arrogance as well as all of the pollutants that have been known throughout history to clog the filters of righteous moral character that so many depend on to man the gadgetry that will make them well.
So what good is it to have the most impressive facility when a nurse loses her sympathy toward an ailing patient and cares not for them except to make a paycheck and coverup their own displays of being inept?
Well listen to how deep the rabbit hole will go in this sad but true case as a saddened Mother takes you through every step of her personal nightmare resulting in the death of her precious daughter due to the shady dealings at The Vidant Medical Center and NOT because of the ailments that she actually came there to take control of.
It has been said that truth is stranger than fiction and as you listen to this tale of injustice unfold you will definitely agree with that statement 100%!
Please feel free to share your thoughts, words and opinions on this unfortunate situation as well as offering a word and prayer of comfort for this special woman who is dedicated to getting the justice for her daughter Keisha!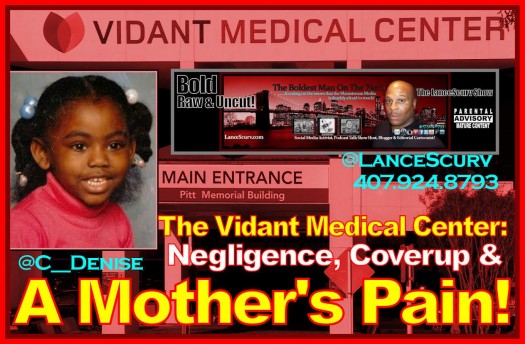 Time: Thursday September 19, 2014 @ 6:00 a.m. Eastern Standard Time
Place: The LanceScurv Show <—–Click here at showtime to hear the entire program live on your computer or smartphone!
Call In Number: 760-259-2310 – Call in to listen or join in with your opinions on the discussion. You DO NOT need a computer to participate in the show, all you need is your phone.
Anonymously Call The LanceScurv Hotline to share your stories and opinions on the show topic at 407.590.0755 – 24 hours a day, seven days a week!
If you have any issues getting to the show, feel free to call me on my personal cell ( 407-924.8793) and I will get you squared away with any problems that you might have!
Also, the entire program will be uploaded to my YouTube channel (YouTube.com/LanceScurv) the very next day for your listening convenience just in case you've missed it.